Children at Burntstump Seely C of E Academy have taken a skateboarding workshop at school.
Issy Hawksmoor from Team Ribicon helped children to get on their skateboards safely. "We start with the basics of getting on and off safely and then move on to more and more advanced stages as children become accustomed to being on the board. We can also give them a few tricks to practise."
Issy says that children are always accompanied by fellow pupils while they have a go on the skateboard, or by an adult if they are new to skateboarding. "Children will work in groups of three, with two supporting the child on the skateboard. Everyone has a go and are helped at all times to work safely.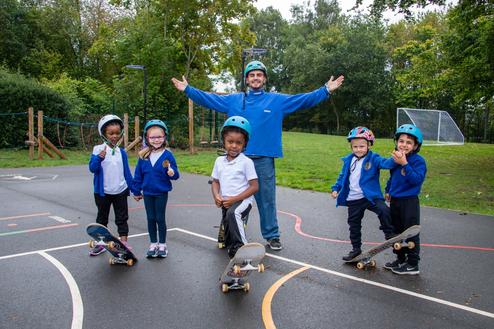 "It would be great to think that some children will go away with an interest in skateboarding, but really this is more about giving children an opportunity to do more than the usual school sports of football and basketball etc. It's about options and giving them a new experience. Skateboarding is also very inclusive, and one of the only sports where gender doesn't play a role in the sport."
Issy says most children he teaches at primary schools have little or no experience of skateboarding. "We bring our own skateboards for children and by the end of their lessons everyone has learned the beginnings of a new skill that they can pursue further if that's what they want to do.  Children often learn very quickly."