Magnus Church of England Academy welcomed children's author, Tom Palmer into school to talk to year 7 students about his writing process and the benefits of developing a lifelong love of reading. As part of the event, the Year 7 student cohort were gifted a copy of Tom's book, 'After the War' as a Christmas gift from the academy.
Heather Jackson is the Learning Resource Centre Manager at Magnus C of E Academy and she said, "We gifted, After the War by Tom Palmer to all of Year 7. We gift a book to every year because we feel reading is such a vital part of a student's progression during their time in school and this falls in line with our vision to develop people of good character."
Tom addressed students about the inspiration behind his book, and the gripping and emotional true-life accounts it was based upon. For his book, Tom liaised with survivors as well as Holocaust educators, to produce a book which is an authentic account, written in an age-appropriate way for students in years 6,7 and 8.
Tom said, "Magnus students have really responded to the fact that the book is based upon the testimonies of the survivors. I didn't make anything up and have shown the students pictures of the survivors I consulted. The survivors advised and helped me to get the facts correct in the book. Of course, the subject matter is very difficult, but the stories are heart-warming and inspirational too. For example, one of the survivors went on to represent team GB as a weightlifter which is an amazing feat in itself.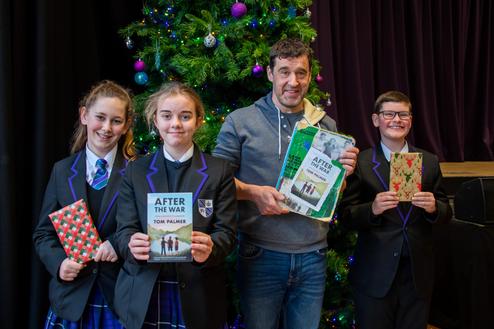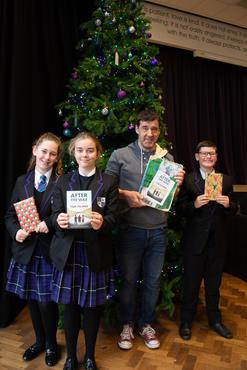 Tom says he hopes his talk has resonated with students. "I think that Magnus gifting a book to their students each year is outstanding, -and really unusual in my experience. Also, by bringing in an author, whoever that might be, to talk about a book, hopefully helps students to warm to the idea of reading more. I really hope that my talk will inspire students, particularly because as I student I struggled to read myself.  I try to encourage everyone to read things that interest them, or that they are passionate about, and hope from there that their love of reading develops."
Heather Jackson said she hoped the book would give students a valuable insight into history. "Since Magnus C of E Academy has been awarded the status of a Beacon School in Holocaust Education, we want to ensure that when students learn about the Holocaust, it is without misconceptions. Tom's book is carefully researched and based on testimonials and experiences of Holocaust survivors. I do feel this detail will encourage students to read the book, and will certainly attract the attention of most, even those that do not normally take an interest in historical texts.
"We are proud of the attitudes and behaviour of Year 7 throughout the event and very impressed with the questions they had to ask Tom after his talk. Well done Year 7."