Staff and children at St Swithun's C of E Primary Academy are enjoying the transformation of their school buildings following works totalling a quarter of a million pounds!
Overseeing the programme of improvements is James Clark, Estates Manager at the Diocese of Southwell & Nottinghamshire Multi Academy Trust (SNMAT), who explained that more work is scheduled. "We are delighted with the results of the building works that have been completed so far at St Swithun's, and really looking forward to seeing the results of our ongoing programme of improvements taking place throughout this year. The building works in the Early Years unit have so far included a brand-new energy saving heating system, new heritage windows and signage. In the main school building a new hall floor has been laid and a total resurfacing of the playground including a new Trim Trail and astroturf section. This has been a particularly big hit with the children."
Funding for the works came from the Department for Education's school condition allocation (SCA), which aims to improve the condition of school buildings and grounds.  James said, "During the Easter and summer holidays, additional work to the St Swithun's Early Years unit will include re-rendering of the building and a brand-new playground for the early years children."
Head Teacher of St Swithun's C of E Academy is Paul Charly, who took up his post in September. Paul said, "St Swithun's is a fantastic school and the children who attend deserve to enjoy the best educational experience possible.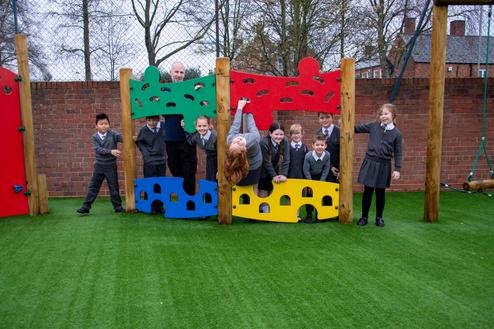 "Our staff are passionate about the well-being and personal development of every child, driving school improvement and broadening opportunities for all.  The building improvements are supporting us in our vision; creating the best environment for children to learn in and thrive, and turning this wonderful school into a place which will serve the community as a beacon of education for many years to come."
Tasked with taking care of the school, which sits in a conservation area in Retford, is Russell Martin, Site Manager. He said, "The transformational facility improvements at St Swithun's C of E Primary Academy are having a positive impact on the school, -the children and staff alike. Everyone is benefitting from the building improvements, -but so far I think children like the new primary playground and Trim Trail best!
"The school has gained new impetus as improvements have been completed, and we have even more to look forward to. During the summer holidays the Early Years playground will get a total overhaul, creating a magical space for our youngest children.  I am so proud of the school and would urge parents to take a look at all of the new and exciting projects taking place which will not only future proof the building, but more importantly, create a wonderful space for all of our children to learn in and enjoy."