Staff and pupils at The King's C of E Primary Academy in Newark, Nottinghamshire, are celebrating results from two recent inspections, each praising the academy for its inclusivity, curriculum strengths and leadership. In both their Ofsted and SIAMs inspections, the academy has been awarded a 'Good' rating.
In what has been a busy few months for the academy, school staff said they were delighted following the result of its first inspection, -that of the Statutory Inspection of Anglican and Methodist Schools (SIAMs), which returned a glowing report with an overall grade of Good.
SIAMs inspectors said the school is 'a beacon of hope and love within its community' and that an 'exceptionally inclusive and nurturing culture builds hope and widens horizons for all pupils and adults'.
Inspectors said staff 'are a joyful and compassionate team, living exceptionally well together. They watch over each other and their pupils with love and hope, building resilience and nurturing growth.'  It goes on to say that leaders have developed a carefully tailored 'aspirational curriculum and dedicated staff inspire all pupils to be active and curious learners. As a result, they thrive in lessons, hopeful of a future full of possibilities.'
The SIAMs report held high praise for pupils at the school saying 'This exceptionally nurturing culture inspires pupils to help each other generously. They spontaneously clear plates for one another at lunchtime and act as supportive peer mentors, exemplifying kindness and friendship'.
Following on from this inspection, the school then received the call from Ofsted and were visited during the October term. Delayed significantly by the pandemic, Headteacher Sarah Clarke said the staff team were keen to be re-inspected, following wide ranging progress at the academy. She said, "It has been a busy period for The Kings C of E Primary Academy with these two inspections following each other so closely. But we knew just how much our wonderful school has developed and improved, and so the whole staff team welcomed the news of the Ofsted inspection."
The Ofsted inspectors found the school to be Good in all areas, highlighting that all communities are 'welcomed and nurtured', and that 'Pupils are polite, supportive and caring of each other. Their social, emotional and mental health needs are well supported. The school ensures that every pupil is ready to learn and succeed by addressing any barriers to learning they may face.'
The report states that the academy 'provides pupils with a wide range of opportunities that they may not otherwise receive' and that 'Pupils have high aspirations. They have confidence in their own abilities.' Staff are described as being proud to work at the school and report that they 'appreciate the systems and procedures put in place to support their workload and well-being.'
In the report is a reflection of parents and carers views of the academy saying, "Parents and carers praise the school. They feel their views and opinions matter and are listened to. They appreciate the kindness that is shown to them by the school. As one parent commented, typical of many: 'It's a wonder school.'
Headteacher, Sarah Clarke and Deputy Headteacher, Colette Jeffery say they are delighted to see how both inspections acknowledged their inclusivity.
"We value every child at The King's." said Sarah. "The contributions and personality that every child brings, make our Academy a wonderful place to learn and grow. We are all made stronger by working as a team and that is exactly what it is like to be at The King's. Our motto statement 'Living Well Together' is lived out by everyone, every day, which makes our academy a very happy place to be. We are filled with pride at how far we have come and look forward to continuing to provide excellent education in the months and years ahead."
In a letter to parents and carers, Headteacher Sarah Clarke thanked the community for its support and encouragement, providing context for the extraordinary year the academy has had. Sarah said, 'Ofsted has been inspecting schools since 1993 – this is the first time that our school has received such a glowing review. Thank you all for helping us every day to make this school such a wonderfully inclusive place to be. We could not be prouder of the inspection report that praises the behaviour and mature attitudes of the children, the strength of the academy's curriculum, the quality of the teaching and the relationships between staff and children as well as between staff and parents/carers. The leadership of the school is seen as a real strength and the inspectors praised the way that everyone at The King's welcomes and nurtures everyone.
"As always, we are proud to educate, care for and celebrate the wonderful children of The King's and we hope that you will join us in spreading the word, that one parent put so beautifully – 'It's a wonder school!'"
To find out more about The King's Church of England Primary Academy, please follow the link: Home | The King's Church of England Primary Academy (snmat.org.uk)
Siams Report The Kings Church Of England Primary Academy Newark 
Ofsted Report The King's Church Of England Primary Academy Newark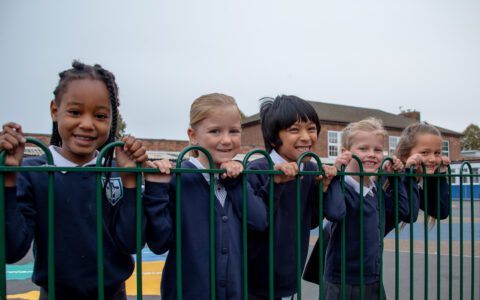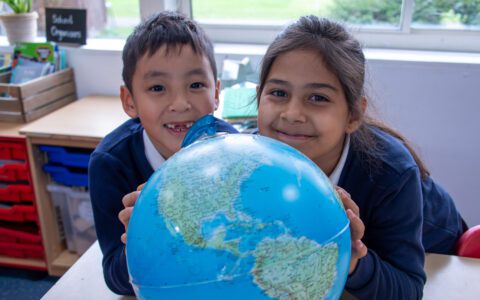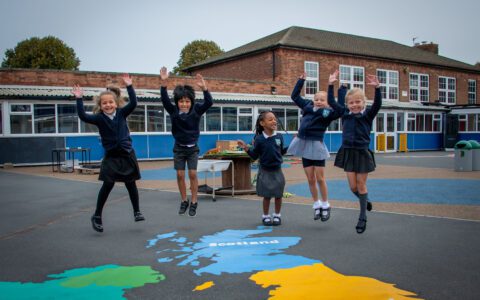 Photograph: Children at The King's C of E Primary Academy Newark who have heard they have two more reasons to celebrate their 'wonder school'!